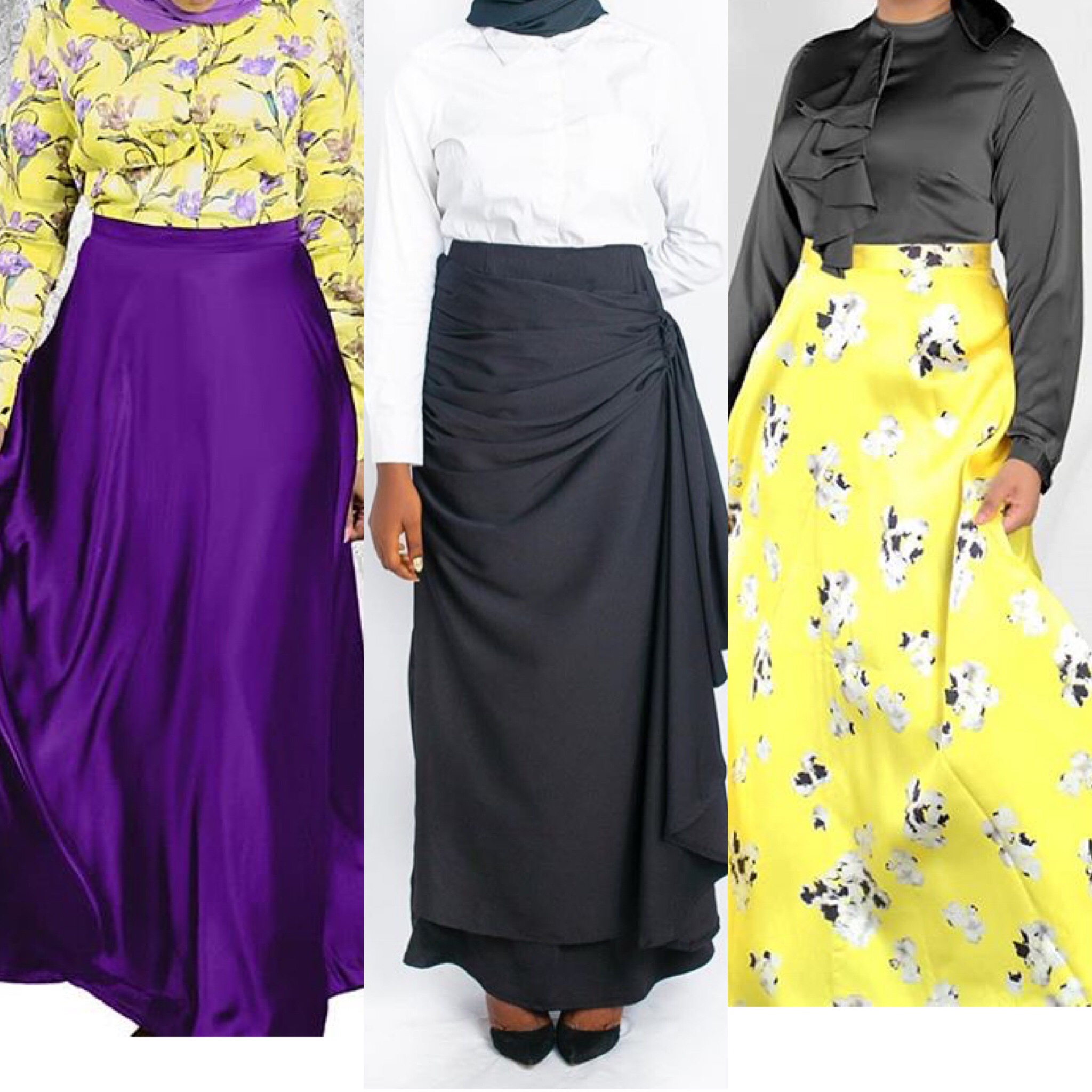 22 Jan

STYLE GUIDE: Styling Skirts To Suit Your Body Type

Whatever your body type or size, there are ways to style your preferred clothing items to suit it.

For Muslim women, Maxi Skirts are wardrobe staples. If you do not own at least one Maxi Skirt, I would like to know why. Most women who begin to cover up according to Islamic guidelines choose Maxi Skirts as trusted companions. I guess the ease of styling and instant covering steals their hearts. Whatever it is, Maxi Skirts are here to stay.

When choosing skirts (any clothing item actually) there are a 3 things to consider
Body type
Lifestyle/environment
Personal style
Let's talk briefly about Body Types. 
Are you body type A, B or C? We broke this down in a previous post, read it here ( Does My Body Type Really Matter? ) and hurry back!
A – Width of shoulder and torso smaller than width of hips.
B – Shoulders and hips roughly the same width, with a defined waist
C – Width of shoulders same or wider than width of hips, with little waist definition
These body types have fuller variations D, E and F.
Type A – You have wide hips and a small waist, this makes your hips standout. The best style for you is a full circle skirt. This style is not figure hugging, so your curves won't be outlined. Going for straight or six-piece cut skirts will emphasize your curves and as a Muslim woman striving for modesty, this shouldn't be your public appearance goal.
Full circle skirts are versatile and can be styled for professional and casual wear.
Type B – You are the typical figure 8. Hips and chest standout and you have a small waist. You are highly celebrated and expected to flaunt your figure. We encourage you not to :). We recommend full circle skirts for you as well but we must add that your choice of blouse should also be closely considered. A full ensemble that shows your defined waist may look seductive, so play around with proportions to get a balanced modest look.
Type C – Broad shoulders and narrow hips. You most likely have a triangular shape and wish you had more flesh in your lower region. Many women do not like this body type unfortunately. It's considered boyish.
In reality, this body type has the most advantages when it comes to styling. Full skirts, Straight skirts, layered skirts, they all work for this body type. The trick is to balance out proportions as usual. Full skirts will give the illusion of a fuller bottom area without any risk of immodesty, same as layered skirts and straight skirts will simply sit perfectly because the hips are narrow.
If you are a full-sized woman, regardless of body type, pay close attention to your overall appearance.  Your size can make an otherwise modest look appear seductive. If seduction isn't your aim, always pay attention.
Let's talk lifestyle/environment.
Before filling your wardrobe with skirts of various colours, assess your environment and daily activities. Do you run around chasing your kids all day? Do you hop on Okadas several times a day? Do you work in a factory or engage in physical activities? Maxi skirts do not fit every lifestyle. Assess yours and then decide. If maxi skirts do not fit your lifestyle, 2 pairs are fine for you, A basic black piece and one more in a colour you love.
Let's talk personal style.
If skirts do not rock your boat, don't force it. Many women say skirts are too girlie for them and they prefer trousers, if this is you, own your style. A modest appearance can be achieved with either of them as long as you achieve a simple, covered and loose look.
So when next you go skirt shopping, arm yourself with this information and choose right! As a dignified Muslim woman, remember to keep your clothing simple, covered, loose and stylish!
Do you have any questions or need extra style tips? Leave a comment and I'll respond inshaAllah.
If you enjoyed this article, spread the love by sharing.