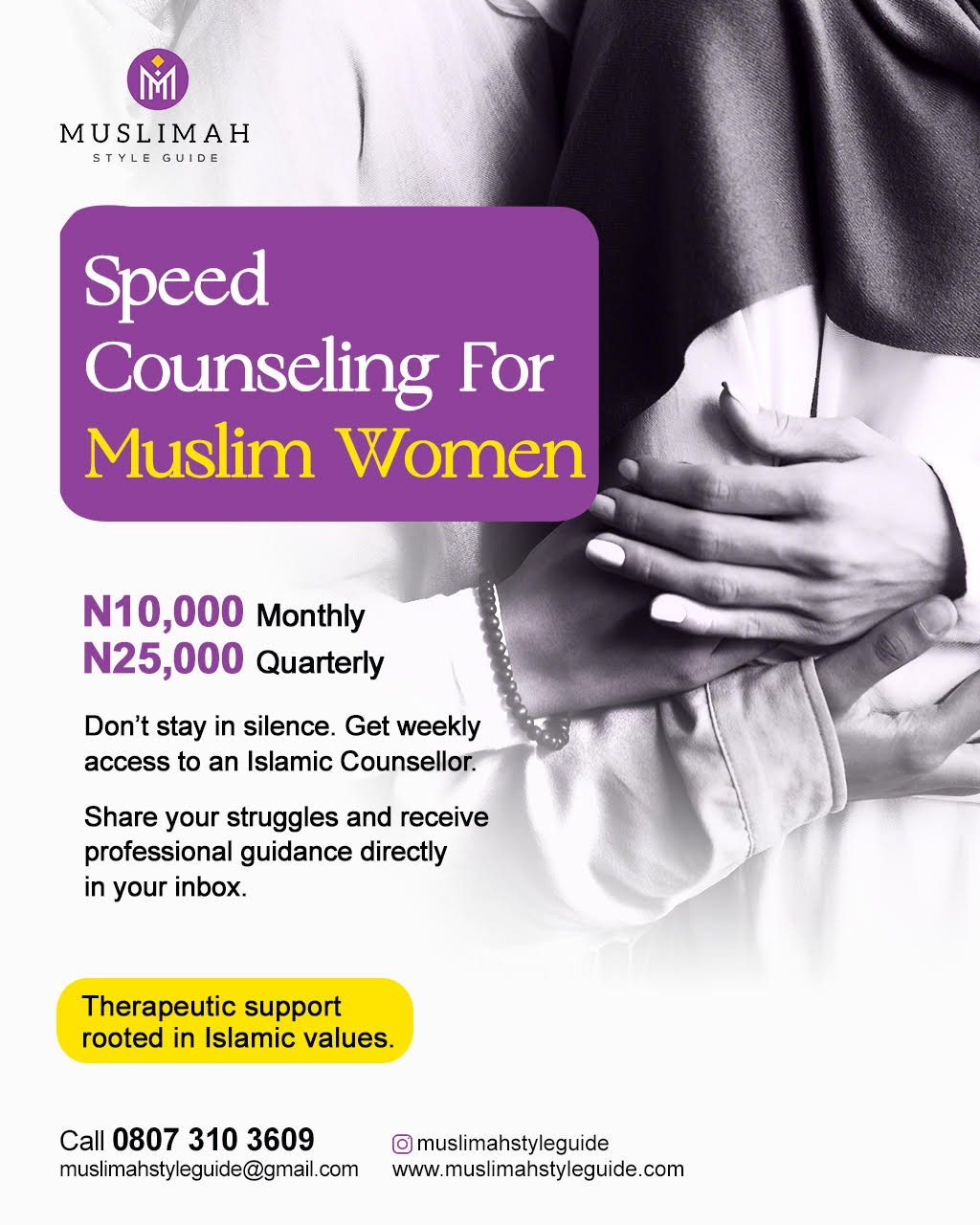 13 Jun

Introducing Speed Counseling by MSG

As salam alaykum ladies. I'm pleased to introduce Speed Counseling by MSG to you. Speed Counseling is an online text-based (Email/Whatsapp) therapeutic support service created to cater to the psycho-social-spiritual needs of Muslim women. It's no news that in our internet-connected world, many are struggling with misinformation, loneliness, low self-esteem and religious challenges. Even those that are psychologically and spiritually healthy find themselves confused and in need of dialogue rooted in sound Islamic values periodically to keep them firm.
This service is inspired by the sunnah of the Prophet Muhammad (peace and blessing be upon him). His unique way of providing guidance was that he did not pay much attention to the past, his focus was the present state, commitment of the individual and possible outcome if Allah wills. Based on these he (pbuh) provided personalized guidance to his people.

This is what I aim to follow inshaAllah. Support provided here is rooted in sound Islamic values.
Based on the poll carried out on the 12th of June 2022 on Instagram, about 90% of you voted for this service. Thank you for contributing to the birth of this unique support service.
While working on the details, I narrowed down the ideal clients for this service. If you fall under any of these 3 categories, I look forward to welcoming you onboard.
Women in need of counseling but currently unable to afford proper therapy sessions .
Women in need of counseling but not psychologically ready for proper therapy sessions.
Mentally and spiritually healthy women in need of professional guidance or feedback periodically.
Please see service details below:
Quarterly
12 counseling slots (one per week)
Reach out via Email or Whatsapp and receive support within 48 hours
Weekly reflection guides
N25, 000 only
Monthly
4 counseling slots (one per week)
Reach out via email or Whatsapp and receive support within 48 hours
N10,000 only
All requests should be sent in on Thursdays ONLY before 1pm. Requests received before or after this time would be moved to the next week.
Payments should be made to:
0115082879 | GTB | MOMOH Oyinkansola Fatima
Please use reference: MSGSC
After payment, kindly email your name (you can choose a nickname or stay anonymous), preferred mode of communication (Email or Whatsapp) and any other general information about yourself you are willing to share.
How It Works In 5 Simple Steps
Fatima makes her payment for quarterly support! Alhamdulillah!
She sends her details to muslimahstyleguide@gmail.com for registration and receives a welcome email with further details.
Every Thursday before 1pm she sends her guidance request.
She receives a one-off response with detailed guidance in less than 48 hours.
Fatima is glad to have swift access to an Islamic Counselor as she navigates her various phases in life!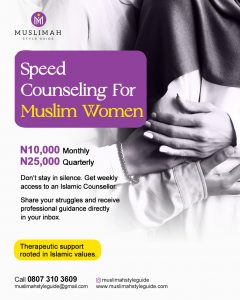 With love for the sake of Allah,
OFM
Read about MSG here: About
See our full therapy options here: Therapies
08073103609