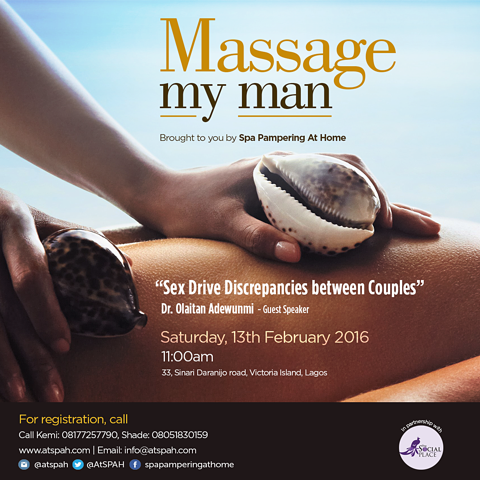 10 Feb

Massage My Man Is Back! Intimacy, Sensuality & Satisfaction

Massage My Man is here again and you do not want to miss it. Testimonials from the previous editions have been rolling in and we must say we are excited.

Dear Sister, don't pussy-foot around your husband, sex is important to both of you as a couple and for your marriage. Three words to remember , Intimacy, Sensuality & Satisfaction. The Massage My Man workshop provides a medium for women to learn massage skills for better intimacy with their spouses and knowledge about their own sensuality.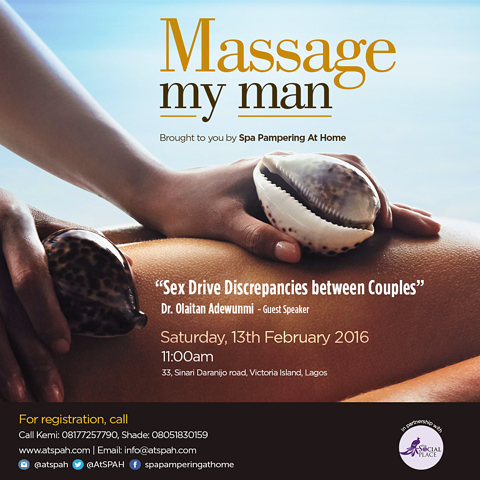 Hear from Dr. Olaitan Adewumni a Senior Registrar of Psychiatry with LASUTH, special area of focus in Psychosexual Medicine as we discuss "Sex Drive Discrepancies".
Then learn from a professional Massage Therapist the tips and tricks of giving an amazing massage.
Hands on practical class.
Who should attend?
Women who want to learn
how to create better intimacy with massage
how to increase the trust and compassion with their spouses
how to rewire their desire
how to touch/massage for relaxation, tension release and sensuality
When?
On saturday 13th February
Where?
33 Sinari Daranijo Street off Yonus Bashorun VI
Time: 11am
Participation Fee: 15,000
If you are reading this, you are a part of the MSG family so you get a 30% discount! This means you pay N10,500. Please don't forget to mention the code "MSG" to qualify.
Contact: info@atspah.com, 08177257790, 08051830159
See you there ladies.
xxx