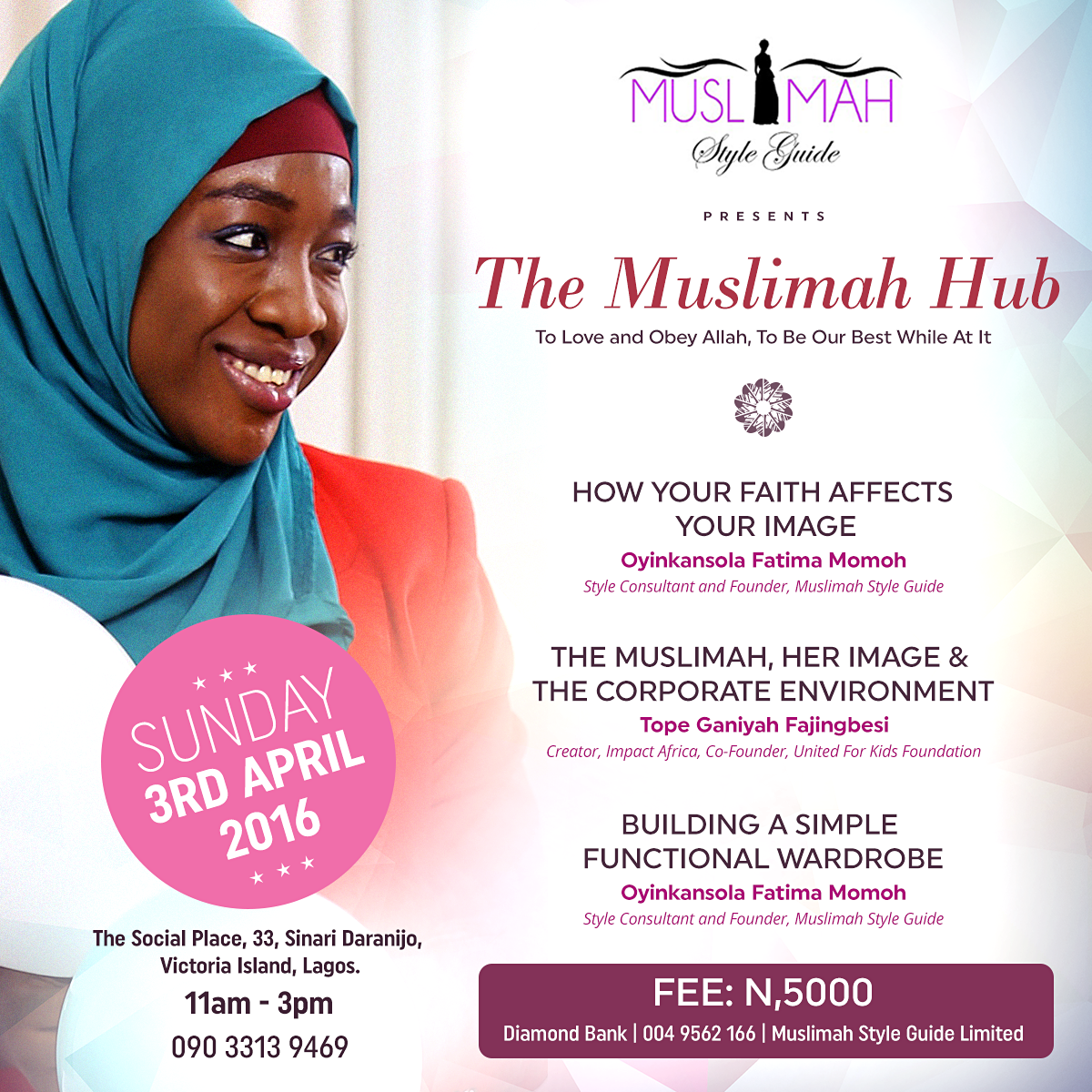 10 Mar

Image Building Sessions at The Muslimah Hub

Assalam alaykum ladies.

Our first ever interactive Image Building Session is set to happen on the 3rd of April 2016 in sha Allah!

We are grateful to Allah for placing this mission in our hands and we sincerely look forward to what the future holds for The Muslimah Hub and its members.

The aim of The Muslimah Hub is to gradually build a network of confident, aware and active Muslim women, who are focused on worshipping Allah and doing the best they can on earth before they return to Him. All our goals are geared towards one thing, which is living purpose-driven lives for the sake of Allah. We do not just say this passingly, everything we pray to achieve at The Hub is solely for the pleasure and worship of Allah. He is The Merciful, therefore we shall ask for his mercy and blessings which he promises the believers and those who do good.

Our two speakers for the day will in sha Allah be;

Tope Ganiyah Fajingbesi, Creator, ImpactAfrica and Co-founder, United For Kids Foundation. She will be joining us via a video session speaking on the image of Muslim women in the corporate environment. Please visit her website here.

Oyinkansola Fatima Momoh, Style Consultant and Founder, Muslimah Style Guide. She will be our host in sha Allah and she will be speaking on How Your Faith Affects Your Image and Building a Simple Functional Wardrobe.

At The Hub, we aim to have unbiased discussions on issues we often overlook or shy away from. We aim to revive the true spirit of Islam within ourselves and eventually the society. We aim to build a foundation for the generations closely behind us that they may find a path that leads to righteousness by the will of Allah.

Please join us. We are happy to start this journey, but we cannot start without you. May Allah bless us all with wisdom and strength to live lives that will please him and open the doors of Jannah for us. Amin

Please call 090 3313 9469 or email contact@muslimahstyleguide for any enquiries.