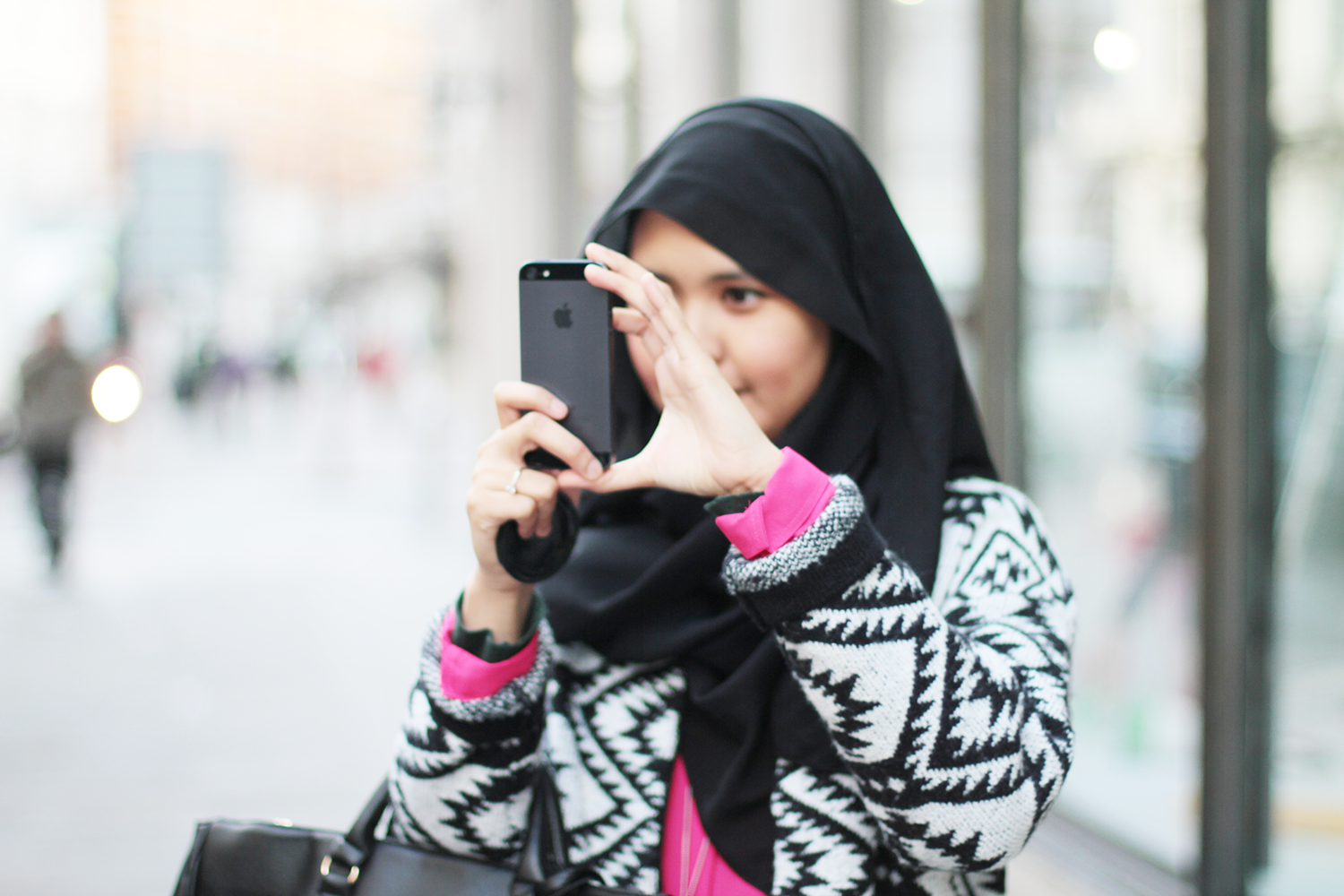 20 Oct

MSG Woman Of The Week: Aida Azlin

Salam alaikum Sisters.

If you follow our Instagram page, it's no secret that we admire Aida Azlin of The Shawl Label (A label that makes staple pieces from carefully sourced fabrics for women). 28 year old Aida is married, currently lives in Morocco and runs TSL which isn't just a clothing label but a platform that caters to sisters all around the world. I'll tell a short story about how I got to know her (virtually).
Over 2 years ago, I stumbled on her first Instagram page, she was preparing for her wedding then and sharing the process on Instagram. My first thought was "aww they are cute" then I followed the page. As time went by I began to really notice the humility she exuded and how sincere and down to earth she was about her life. So simple yet so happy. I remember her embarking on countless DIY projects for her wedding and totally enjoying the process. 
Fast forward. She then writes that they are moving over to another account and the account she created for their wedding would be inactive. Thats how I started following her other account and I must say I'm glad I randomly stumbled on her Instagram account years ago, because just by being herself she inspires others to strive to be better.
That's just a summary.
Through the years I have watched and learned from Aida. Her love for Allah, her dedication to her work and her sincere outlook on life is remarkable. With her fuss-free laid back style, charming smile and incredible personality, Aida Azlin is our Muslimah Style Guide Woman Of The Week. Below is a short Q&A session I had with her, I sincerely hope it inspires you as much as it has inspired me. 
Fatima: What inspired the start of The Shawl Label?
Aida: There isn't a definitive point in time where I woke up one day and said, "OK lets do this. Lets start The Shawl Label."I really believe that everything that has happened in my life has contributed and culminated to me starting out TSL in 2013. But one of the biggest contributing factor is definitely me being here in Morocco.
Moving to Morocco transformed and brought change to how I saw the concept of 'entrepreneurship'
especially after having met and being inspired by women who are their own bosses here. They taught me that one does not need a huge amount of capital, Facebook or even a fancy website to create noise about what one is doing. That all we need is the intention to begin, lots of hustle & hard work, a bit of courage and a whole lot of sincerity, gratitude and patience.
But what I do know is that, when I started TSL, I wanted it to be more than *just* a label. I wanted it to be a platform for us to serve fellow Sisters, to connect with strong, like-minded ladies and most of all I wanted it to be a constant reminder of our very purpose of existence: to seek Allah's pleasure and be the best Ambassadors of Islam.
Alhamdulillah, two years on, it still is.
Fatima: How would you describe your personal style?
Aida: I think it would be: simple, fuss-free, and comfortable (#lazy????? lol please don't quote that!)
I used to be soooo matchy-matchy when I was younger, but as I grew older, I learned what looks best on me. I'm quite small so long tops kind of elongate my height (cheat, I know). I also never wear heels (only once on my wedding) and hardly accessorise. My tailor and I sew almost everything in my wardrobe so
everything fits me to a T (I cannot stress how important it is to have a good fit more than anything)
My "style" is also deeply influenced with the current city I'm in. I shuttle between Singapore, Morocco and London quite a bit – so it varies city to city. I dress down when Im in Tangier, because the city has such a nonchalant and laid back vibe to it. London, I get more excited to play with colours and Singapore… Singapore is special, as it is home to me. My Singapore "style" is in between, a nice
balance between the other two cities.
I'm also not too strict on colours (I don't know how people can place a rule on themselves and say, Im a minimalist, so I only wear black white and grays) – I wear whatever I want according to how I feel that day. If I feel like I want to be a little more feminine, I'd wear a dress. If I feel like I will be running around the whole day doing errands, then I will wear sneakers. I have no rule. Life's too short for that.
Fatima: We know you are big on sisterhood, please share an experience this has brought into your life.
Aida: TONS. I don't even know which one to pick.. But if I have to choose one it will be the amount of love letters I get from Sisters all over the world in response to my Tuesday Love Letters at TSL.
I am blown away and honoured by their stories, by their dreams, by their fears, by their hopes that they have so willingly shared to me – and even though, we are separated behind a screen for now, I know in my heart of hearts, one day, In Sha Allah, we will all be re-united in Jannah. Because of this Sisterhood.
Because of this Love for Allah.
Fatima: In the simplest and truest words, what does happiness mean to you?
Aida: Happiness for me is going to bed at night, knowing that I've done my best that day 🙂
Fatima: We recently shared one of your posts on our Instagram page that talked about how many young girls are distracted by mobile phones and actually miss out on real life experiences and lessons, please share with us all you do with your hands Aida :).
Aida: I do many things with my hands. Whenever I take wudu' and when I wipe my two arms with water for ablution, I always pray for Allah to let me create beautiful things with it.
I sew with it, I write with it, I pack gifts for the Sisters with it, I cook (albeit badly) with it, I source and touch the fabrics with it. I embroider with it, I paint with it, I design with it, I communicate with it.
My two small hands are what makes my work a reality, Alhamdulillah.
Fatima: If you could share just one piece of advice to all the Sisters out there from the very bottom of your heart, what would it be?
Aida: SELF WORTHINESS. It's the first thing I will teach my future daughters, In Sha Allah, and it is one of the most important things that a Muslimah should have. We should always remember that we have been created by the Best, and so we only deserve the Best. Read the best books, eat the best food, have the best companions, speak the best words of truth, wear the best clothes of modesty.
If you know Self Worthiness, no one, and I mean no one, can put you down.
Your worthiness belongs to Allah and only Him. 🙂
Please visit Aida's website The Shawl Label and subscribe to her amazing love letters. Aida writes from her heart and if you truly love Islam and appreciate sisterhood, you will actually fall in love with the love letters :).  
I hope our stylish, hardworking Woman Of The Week inspires your week. Keep being awesome Sisters!
Photo credit: Aida Azlin